CYPERN
Nu är vi hemma och i ordning igen efter 10 underbara dagar på Cypern.
Vi åkte dit för att leverera en valp och passade då på att ta lite välbehövlig semester.
Valpen Casper (Villa Rosas Uisge Inishowen) hade vi med oss i en speciell hundväska som handbaggage på resan. Han tyckte det var jätte-mysigt och sa inte ord på hela resan. Inte ens vid incheckningen sa han något så dom undrade var hunden var någonstans.
När vi landat på Larnaka flygplats möttes vi upp av Anthi och Ilaeira. Dom var mycket spända på sin nya familjemedlem men casper var så tyst i sin väska så dom fattade först inte att han var där. När vi gått igenom tullen och visat alla papper åkte vi till Nicosia och Caspers nya hem. En vacker villa med en stor underbar trädgård fylld med blommor oliv- och citronträd. Casper gjorde sig snabbt hemmastadd och började leka med Ilaeira som var överlycklig med sin nya kompis.
Vi tillbrinade 4 dagar i Nicosia och Anthi visade oss staden och omgivningarna. Vi bodde på ett hotell i gamla Nicosia innanför murarna.
Now we are back home again after 10 wonderful days in Cyprus.
We went there to deliver a pup and took at the same time a much needed holliday.
We kept the pup, Casper (Villa Rosas Uisge Inishowen) in a Sherpa bag as hand luggage during the flights. He loved his bag and was silent all the way. Not even when we checked in, he didn't say anything, so the lady asked where our pet was.
When we had arrived at Larnaka airport Anthi and Ilaeira were there to meet us. They were very excited over their new family member and didn't realize he was in the bag since he didn't say anything. When we had passed the customs and showed all papers, we went to Nicosia and Casper's new home. A beautiful villa with a wonderful big fenced in garden, where flowers olive- and lemon trees grew. Casper made himself home direclty and started to play with Ilaeira who was so happy that her friend eventually had arrived. We spent 4 days in Nicosia and Anthi showed us the town and surroundings. Vi stayed at a hotel in the old town inside the walls.
Det var underbart att komma ner till solen och värmen
It was wonderful to come down to the sun and warm weather.
På söndagsförmiddagen hämtade Anthi oss på hotellet för en tur ner till Limasol och en av alla platser från Antiken,Romartiden och den Bysantiska tiden . Cypern låg och ligger ju mycket centralt i östra medelhavet. Här kommer lite bilder från en stad och ett palats som låg där på den tiden.
Sunday morning Anthi coleected us for a trip down to Limasol and one of all places from the Antics, Roman and Bysantic period. Cyprus was and is situated very central in the east part of the Medeteranian sea. Here are some pictures from a town and a palace from that time.
At the gladiator arena
the passway for the gladiators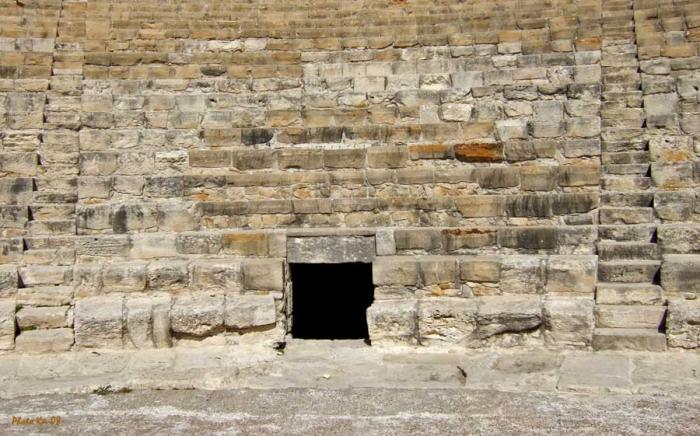 where the the wild beasts were kept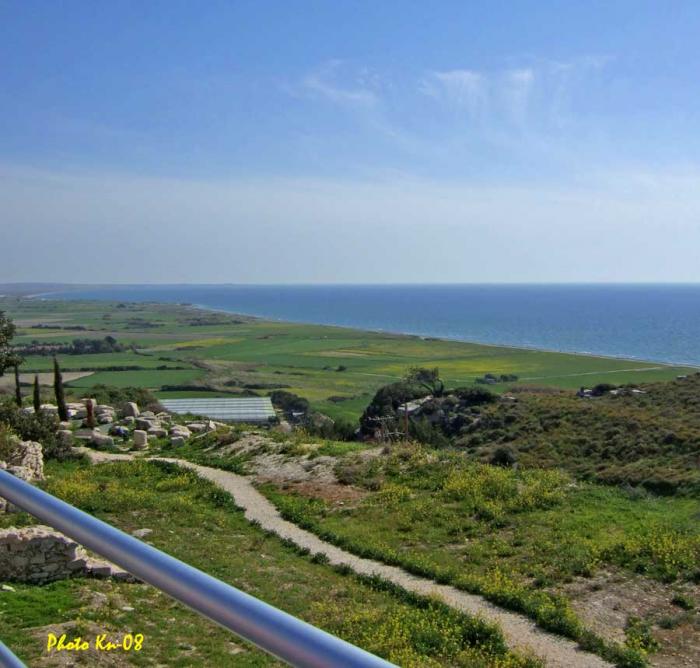 Wiew from the ancient town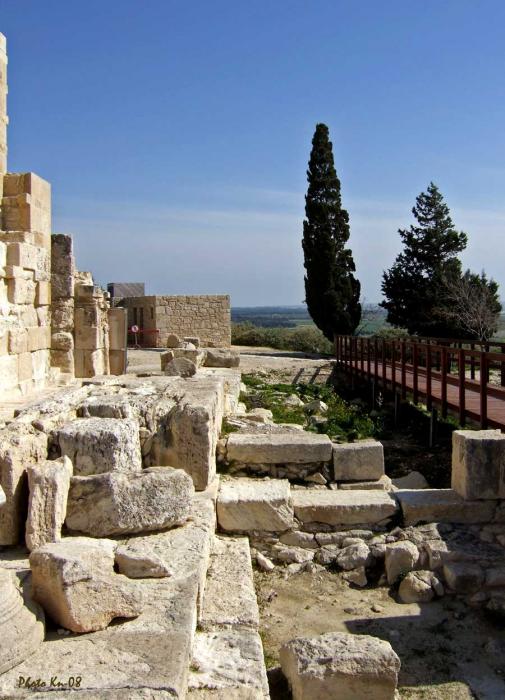 Ruins of the town
The mosaik flooring in the palace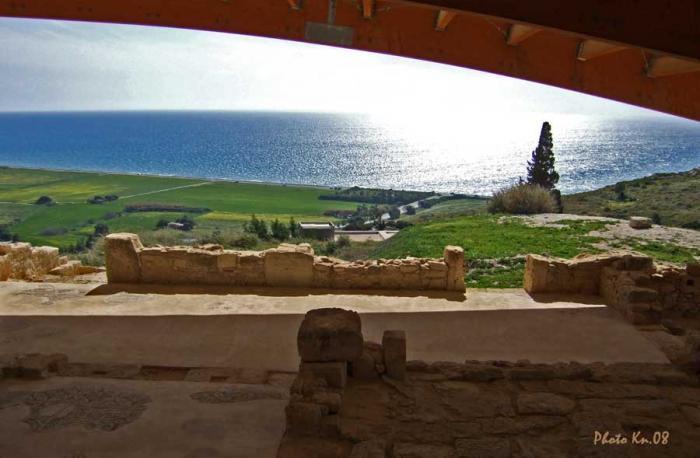 View from the palace
Zygi
Vi fick låna en bil av familjen och på onsdagen körde vi ner till en liten fiskeby, Zygi, på sydkusten mellan Larnaka och Limasol. Där bodde vi i en lägenhet vid havet resten av tiden och hade det helt underbart. Vi gjorde lite utflykter med bilen och såg oss omkring på den södra delen av ön.
The family borrowed us a car, and on Wednesday we went south from Nicosia, to a small fishing village, Zygi, between Larnaka and Limasol. We stayed in an apartment just by the sea, and had a wonderful time there. We went with the car and discovered the suroundings of the south part of Cyprus.
Zygi. Huset vi bodde i / The house by the sea where we stayed
Varje morgon åt vi frukost på terassen, som vi hade för oss själva eftersom det var "vinter" när vi var där. Vi satt där och tittade ut över havet, på fiskebåtarna och sportdykarna. Båtar sjösattes på morgonen och drogs upp på kvällen. En del gick ut med stranden och fiskade bläckfisk. Hela byn var präglad av fisk och det fanns hur många fiskreturanger som helst. Vårt favoritställe blev Captains Table som serverade underbar mat och faktiskt låg i andra änden av samma hus som vi bodde i. Vi kunde gå dit via stranden eller huvudgatan och det tog kanske 3 minuter. Ganska bekvämt. Både Christer och jag älskar fisk så vi "trivdes som fisken i vattnet" ;-)
Maten på Cypern var överlag mycket god och vi lade nog på oss ett par kilon;-)
Every morning we had breakfurst at the big terass, what we had for ourselves since it was "winter" when we were there. Sitting there looking out over the sea, the fishingboats and sportingdivers. Boats were putting in the sea in the mornings to be taken up again in the evenings. There were fishingmen walking along the beach fishing octopusses. All the villige was marked by fish and there were a lot of Fish Resturants. Our favouriteplace was Captains Table who served delicious food and were situated in the other en of the house where we stayed. We could walk there by the beach or the mainstreet and it took only a couple of minutes to get there. Very confy;-)
The food overall was excellent in Cyprus and we put on some weight as well :-)
Zygi. Stranden utanför lägenheten/the beach outside our apartment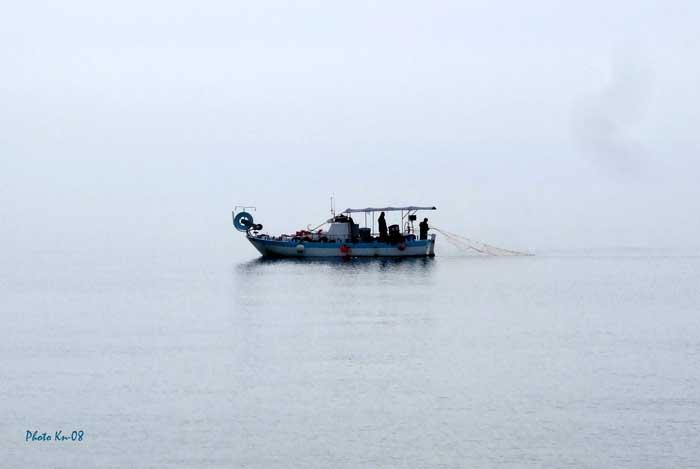 Zygi. Fiskebåti tidigt morgondis/Fishing boat in early morning haze
Zygi. Dykarna kommer tillabaka efter en dag ute i havet/divers are coming back after a day out in the sea.
Zygi. huvudgatan/mainstreet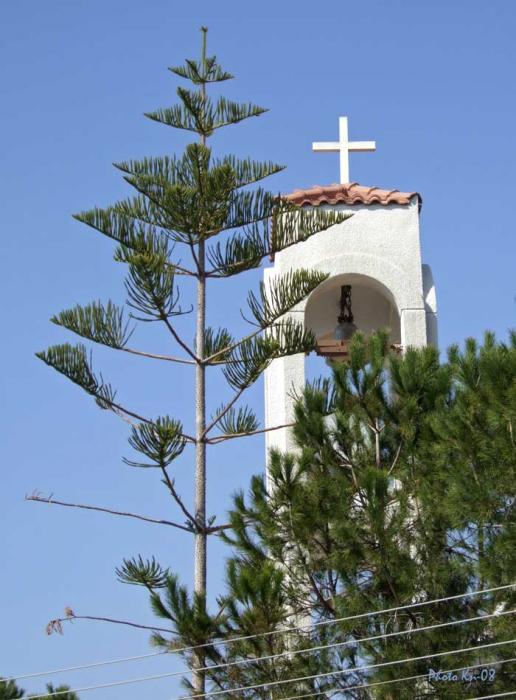 Zygi. Kyrkan/the Church
En dag tog vi bilen till Phafos såm låg ca 10 mil bort längs kusten. Vi parkerade bilen vid stadshuset och flanerade runt i stadkärnan en stund sedan gick vi mot turistdelen nere vid havet. Man ser så mycket mer när man promenerar och vi tog flera pauser. Vi passerade gamla grottor, ett hotell byggt i den gamla romerka stilen. Överallt blommade hibiskusar och pelargoner. Högt uppe på ett berg blommade cyklamen. Tyvärr var hela stranden avstängd för ombyggnad så vi kom alsrig ner där. I turistdelen bodde många pensionerade Engelsmän och även en o annan svensk.
One day we went with the car to Phafos some 100 km away along the coast. We parked the car outside the Town Hall and walked aroud the town a while. Then we strated the walk down to the sea and the tourist part. We stopped now and then for a drink and an ice cream. Along the the way there were some old caves, a hotel built in the old Roman style and a lot of flowers like hibiscus, geranium and cyklamen in flower. Unfortunately all the beach were closed for working so we couldn't go down there. In the touristpst a lot of retired englishmen lived and a few Swedish as well.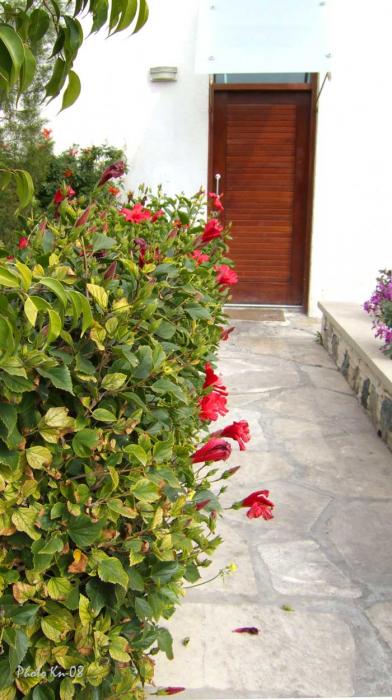 Copyright © 2005 Kennel Villa Rosa. Alla rättigheter reserverade