MADEIRA
Den 4 maj åkte vi upp till Stockholm för att skicka Snorre till Australien. När vi lämnat honom på Arlanda firade vi vår silverbröllopsdag med med att äta en underbar måltid på Resturang Piccadilly i Märsta. Det var en sällsam, underbar och annorlunda upplevelse.
Tidigt på morgonen den 5 maj lyfte vi mot Madeira och anlände vid middagstid. Vi installerade oss i lägenheten på det lyxiga hotellet Tivoli och gick ut på upptäcksfärd i Lidoområdet där hotellet låg.
*****
The 4th of May we went up to Stockholm for sending Snorre to Australia. When that was done we celebrated our 25 wedding anniversary at Restaurang Piccadilly in Märsta. That was a very special and wonderful experience.
Early morning the 5th the plane lifted towards Madeira and arrived in the middle of the day. We installed ourselves in the apartment at the luxous Hotel Tivoli and went out to discover the neighbourhood in the Lido area where the hotel was situated.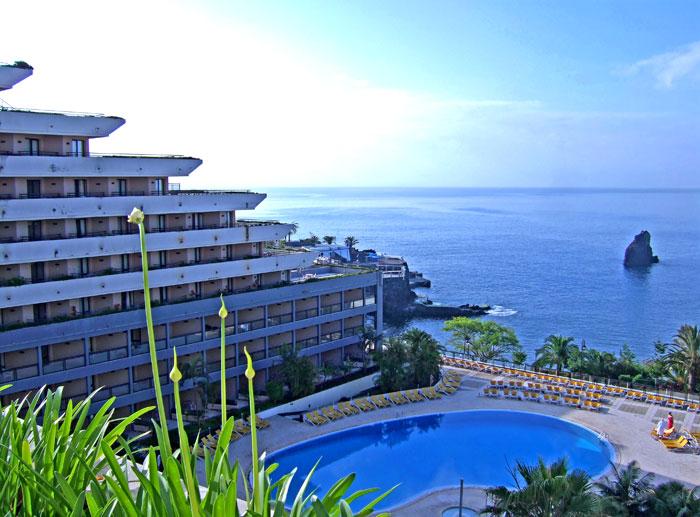 Utsikten från vår jättealtan - The wiev from our enormous terrace
Vår korridor på 7e våningen med gatan nedanför -wiev from the hallway on 7th floor over the entrance.
Hotellet från baksidan, vår altan är precis över hotellnamnet Tivoli. - The backside of the hotel, our terrace is just above the hotel name Tivoli.
Vår utsikt är hänförande - the wiev is fascinating
Ett piratskepp seglade förbi .... A pirate ship came across.....
På baksidan precis nedanför hotellet gick strandpromenaden som vi var ute och gick på varje dag.
Just behind the hotel was a waterside walk that we walked along every day.
Där låg många vackra platser här ett av havsbaden.
there were many beautiful places, here is one of them, a kind of ocean bathing places.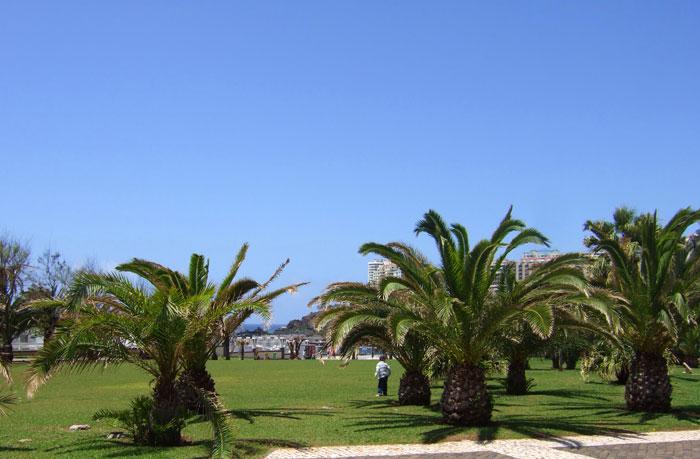 En vacker palmpark där man kunde vila sig en stund..
In a beautiful park of palm trees it was nice to take a rest....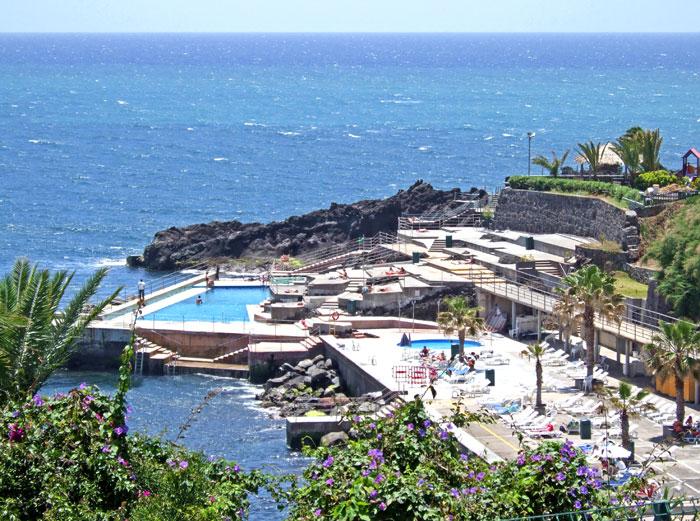 Nedanför vårt favoritlunchställe ligger denna badplats i Lido området.
Under our favorite lunch restaurant was another ocean bating place situated in the Lido area.
Vardagsrummet i vår lyxiga svit - the lounge in our luxus suite
Sovrummet var nästan lika stort som vardagsrummet hemma ;-)
The bedroom was almost as big as our living-room at home ;-)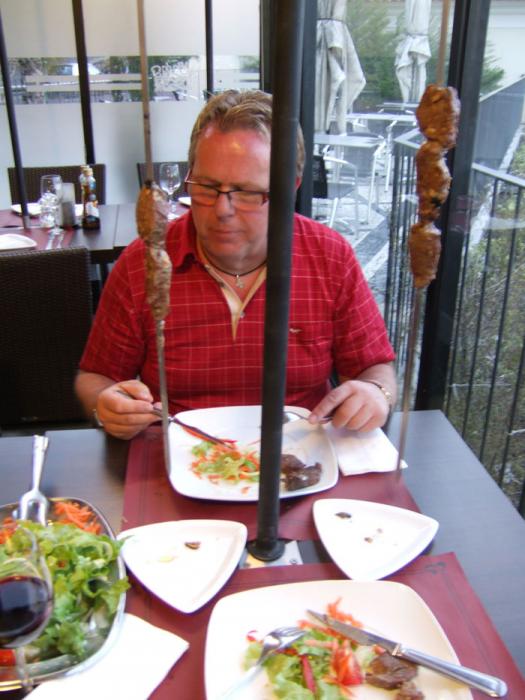 På kvällarna provade vi på lite olika resturanger. Här är vi på en restaurang i en Liten
fisekby västerut och äter deras berömda grillspett. Underbart gott!!
In the evenings we tried some nice restaurants. Here we are at a restaurant in a small
fishing village a few km west, having their famous skewer. Wonderful!!!
**** Den 10 Maj ****
Champagnefrukost med jordgubbar i matsalen på födelsedagen !
Champagne breakfurst with strawberries on my birthday!!
Skåål för 60-åringen - A toast for the 60 years oldie
På kvällen tog vår chaufför oss högt upp i bergen till en mycket speciell restaurang där vi vi åt en utsökt middag igen. Resan upp var hisnande när vi mer eller mindre klättrade upp för bergsidorna till drygt 1400 meters höjd. När vi åkte från hotellet var det 22 grader varmt och när vi var uppe på toppen var det bara 9 grader.
In the evening our driver took us high up in the mountains to a very special restaurant where we had a wonderful dinner again. The drive up there was dizzy when we were climbing up the mountains sides up to over 1400 meters. When we went from the hotel it was 22 degrees half an hour late on the top of the mountain it was 9. Quite a different.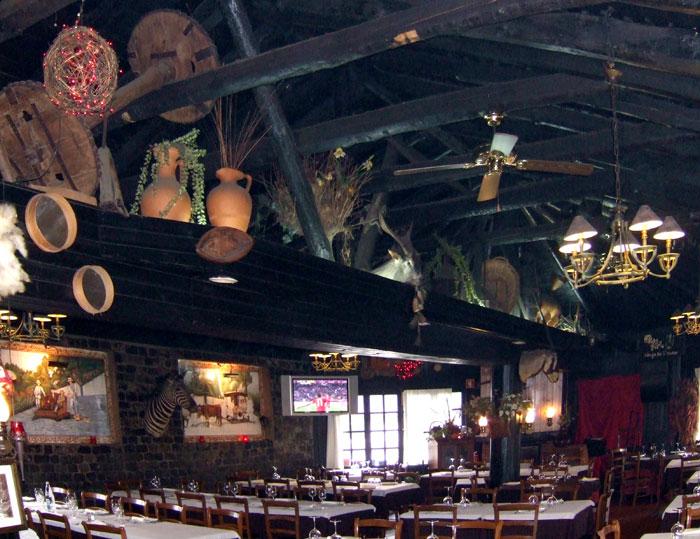 Inredningen i restaurangen var annorlunda för att vara på Madeira The very special restaurant
Hovmästarinnan severade oss ett utsökt vin till maten som bestod av en lokal specialitet tillagad på spädgris.
The waitress served a exquisite wine to the local specialty meal made from a young-pig.
Vårt hotell sett från ovan. Receptionen, som ligger i gatunivå, är på 6e våningen, sedan klättrar våningarna både uppåt till 10 och neråt till 0 som är vid strandpromenaden under poolen. Ovanför ligger huvudvägen västerut. Vi gick den en liten bit och hittade villor, bananplantager och ödlor.
Our hotel seen from above. the lobby situated on street level was on the 6th floor, the the hotel is climbing up to 10th level and down to 0 that is on level with the waterside walk under the pool. Above is the main road to the west. We walked on it a bit and saw beautiful houses, banana plantages and lizards.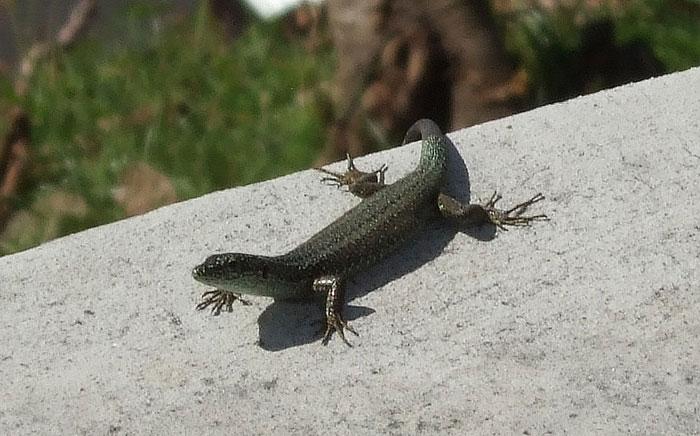 HUVUDSTADEN/THE CAPITAL FUNCHAL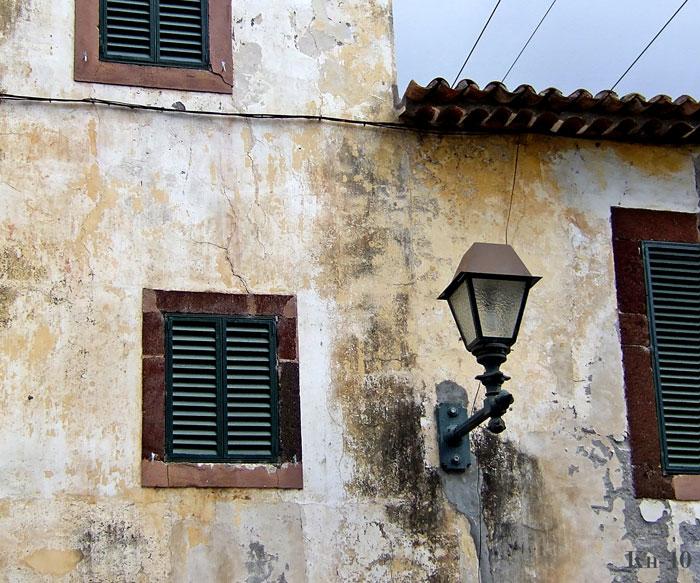 Fuchal är en mycket vacker stad och vi var inne där ett par gånger under veckan. Andra gången gick vi i gamla stan som är otroligt vacker och det var inte svårt att hitta fina motiv.
Funchal is a very beautiful town and we wnt there aq couple of times during the week. The weccond time we went to the old city that is increibly beautiful and it was very easy to find nice subject for the camera lens.
Där var många vackra gränder i gamla stan - There are many beautiful alleys in the old town
Man har också ett sinnrikt bevattningssystem som leder vattnet ner från bergen.
De kallas levador och mynnar så småningom ut i Atlanten.
They have a very ingenious watering system that leads the water down from the mountains.
They are called levadas and ends up in the Atlantic ocean.
Madeira är ju känt för sina blommor och blommade gjorde det överallt.
Här ett träd med stora orangeröda blommor som man kallade tulpanträd.
Madeira is known for the flowers and there were flowers everywhere.
Here is a tree with big red flowers, they called tulip tree.
Boganvilla som täcker en gång som går 2,5m under blommorna.
A Boganvilla covering a passage 2,5 meters underneath.
Även Jakarandan blommade med sina stora lila blommor på bar kvist, högt över takåsarna.
The jakaranda trees were covered with purple flowers high avove the roofs.
På vår promenad i gamla stan träffade vi på en arbetare som var på väg hem till siesta.
Jag fick ta en bild av honom och så här fin blev den.
On our walk in the old town we met this working man on his way home for a siesta.
I was allowed to take a foto of him and this is how beautiful it became.
Det gamla fortet i Funchal - The old fortress in Funchal
Utsikt nordost från gamla stan Wiev notrh east from the old town.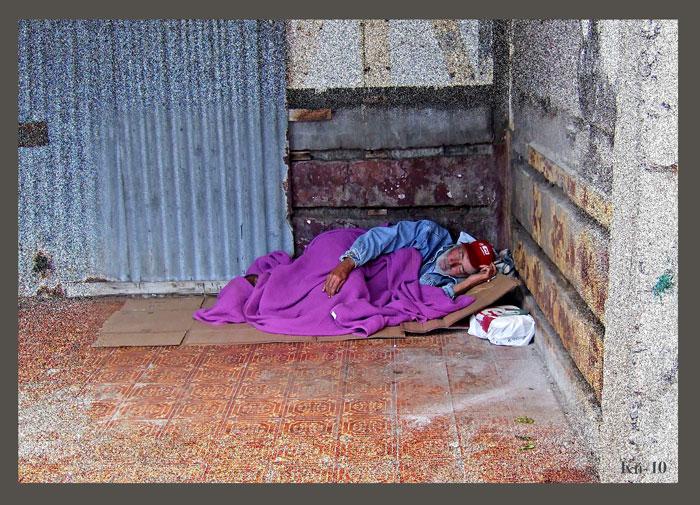 Siesta
Utsikt in mot hamnen i Funchal där en jätte-stor oceanångare ligger. Det är den största båt jag sett i verkligheten tror jag.
Wiev towards the harbour in Funchal where a giant ocean boat lies. I think this is the biggest boat I ever have seen in real life.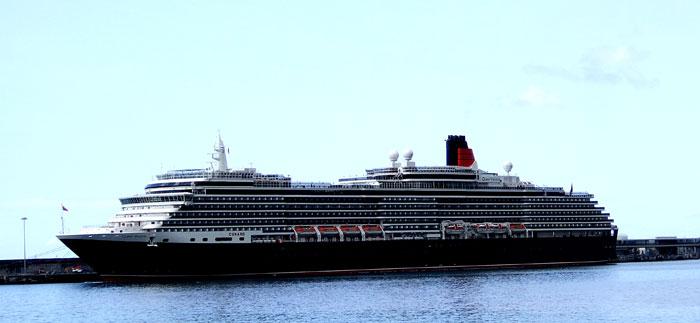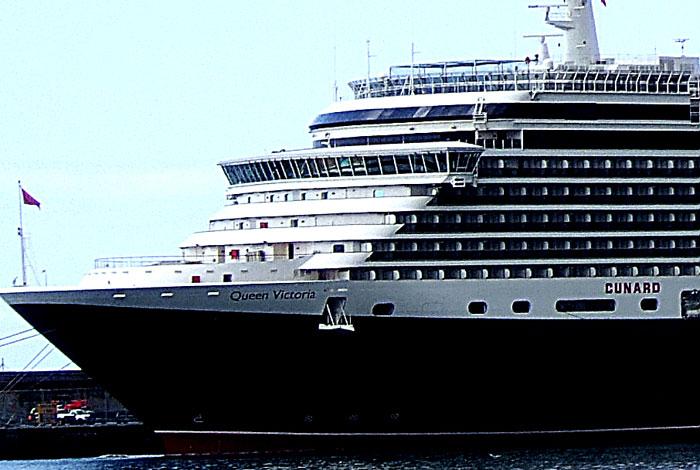 Kolla in hur små lastbilarna är på kajen.. Look how small the lorrys on the quay are...
Sista kvällen äter vi på vår favoritresturang. En fiskresturang en bit västerut. Christer äter bläckfisk som han bara är heltokig i och jag äter sjötunga. Behöver jag säga att det var utsökt gott? Hovmästaren på resturangen poserar gärna med oss.
the last night we goes back to a favourite restaurant, a fish restaurant a few km west. Chris has octopussy, what he loves, and I have a sole. Do I need to say how delicious it was? the waitress on the restaurant is happy to pose for a photo with us.
Utsikten från resturangen när solen går ner är hänförande!
The wiev from the restaurant in the sunset is breath taking!
Sedan kommer vår chaufför Edgar och hämtar oss, men innan vi åker tillbaka till hotellet tar vi en kopp kaffe.
Our driver Edgar come to collect us but enjoys us with a cup of coffe before leaving the restaurant.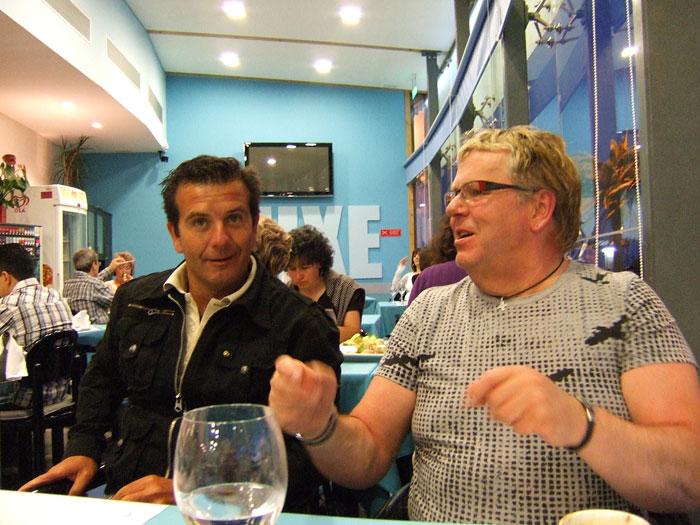 När vi kommer tillbaka till hoteller får vi meddelande att flygplatsen är stängd på grund av vulkanaska från Island, men att vi skall få besked kl. 09.00 dagen därpå om vi kan resa hem.
Och vi kom hem några timmar försenade.
Back at the hotel we get a message that the airport is closed because of vulcan ashes from Iceland and that we will get more news next morning 9.00 if we can go back home.
And we came home a few hours delayed.
Copyright © 2005 Kennel Villa Rosa. Alla rättigheter reserverade