10/1-2010
Hi Kickie and Chris,

Tomorrow is Skatan's 14th birthday. She is still healthy and sturdy and
Keith's blond. She shows very little signs of aging. She sleeps on our bed
all day but is very happy when her Dad comes home from work. She is truly
his blond. I am attaching a photo we took at Christmas of our girl. She is
truly a treasure!! Thanks for sending her to us we cherish every day we have
with her.

Our best to you,

Karen and Keith
We are so blessed to have the supreme Queen of wheatens residing with us.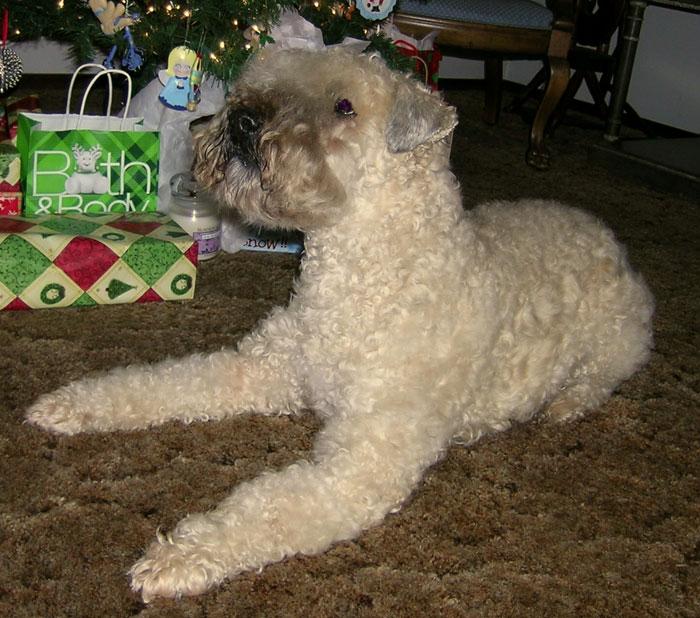 The Supreme Queen
In her dad's lap
---
17/12-09
På Lucia natten blev Snorre pappa till ett helt Lucia följe med tärnor och stjärngossar o allt;-)
Heijka of Queen Stars hos Kennel Joyful i Danmark fick 12 valpar på 4 timmar!!!
4 hanar och 8 tikar
Heika of Queen Stars whelped 12 puppies in 4 hours at Kennel Joyful in Denmark.
4 males and 8 females.
Sire is Snorre (SUCH Honeyrags Island Duke Of Villa Rosa)
Once again he has sired an enormous litter.
---
Villa Rosas Shylah
VILTSPÅR CHAMPION/GAME TRACKING CHAMPION!!!
ägare o förare Annika Sterner Kennel Keen On
---
1 års hälsning från Bertha/1 year Greetings from Bertha
---
20/9-2009
Here is Maria this morning with my grand kids, Claire (7) and Lars (5).
Barb Peterson
VERMILION KENNELS
Duluth, MN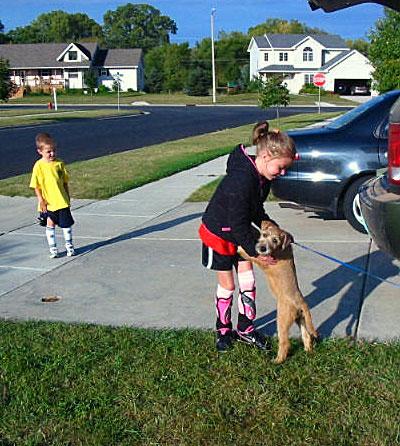 Maria, Villa Rosas Wanya har nu anlänt till sitt nya hem i Minnesota hos Barb o Steve Peterson.
Maria, Villa Rosas Wanya, Has arrived to her new home in Minnesota with Barb o Steve Peterson.
---
Den 18/9-2009
Hej Kicki.
I dag så gick vi ett spårprov igen. Det blev en till 1:a, så nu har vi 3 godkända spårprov som det krävs för viltspårs championatet. Så nu kan Shylah titulera sig med titeln Svensk viltspårs champion, Svch.
Spårtid 17 minuter och 37 poäng. Domarens utlåtande:
Tar snabbt an spåret. Klarar vinkel 1 & 4 & bloduppehåll utan tvekan.
Vinkel 2 & 3 & återgång med ringning. Tar viltdelen direkt. Skottprov godkänt.
Lite yvig ibland. Spårar utmärkt i lämpligt tempo.
Hälsningar
Annika & Shylah
Ett JÄTTE-GRATTIS till er båda!! Bra jobbat. Pappa Snorre hälsar o grattar också
Kickie & Chris

Villa Rosas Shylah, kullsyster till Helge (Seanan)i Finland och Slaney i Sverige. Två kända vinnare.
Ägare av shyla Annika Sterner Kennel Keen On
---
Den 25/8
Hej på er!
Tänkte berätta att Shylah i dag klarade sitt första rörliga spårprov i viltspår. Det blev en 1a, 14 minuter och 37 poäng. Blev lite intresserad av vilt som sprungit över spåret.
På fredag, innan jag styr kosan mot Tånga Hed så gör vi ett ordinarie spårprov.
Hälsningar
Annika
Shylah has made her first blood track and got a 1st price.
Grattis till 1a priset!!! Congrats
Kickie o Chris
---
Den 15/8
Lagom till till Chris födelsedag anlände han vår lilla Razzle. Tack Frank o Deborah och Bosse och Ingrid för att ni gjorde detta möjligt. Titta på vår lilla söting och njut.
He arrived to Chris birthday our little Razzle. Thanks Frank & Deborah and Bosse & Ingrid for making this possible. Look at our sweetie and enjoy.
Hi I'm Razzle Dazzle and I'm from Ireland!!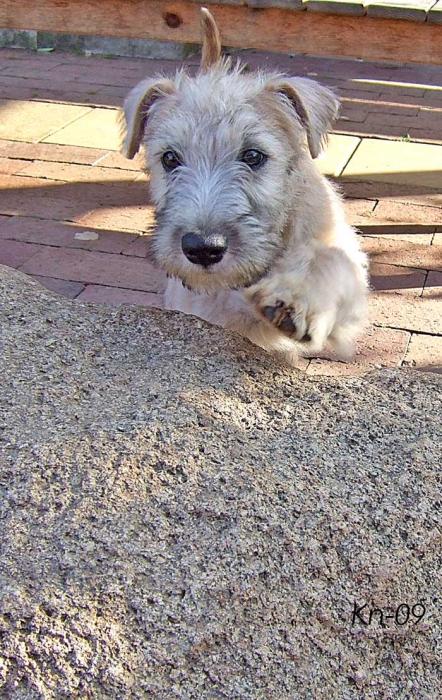 Hi Snorre, what are you doing?
Aha..spring water...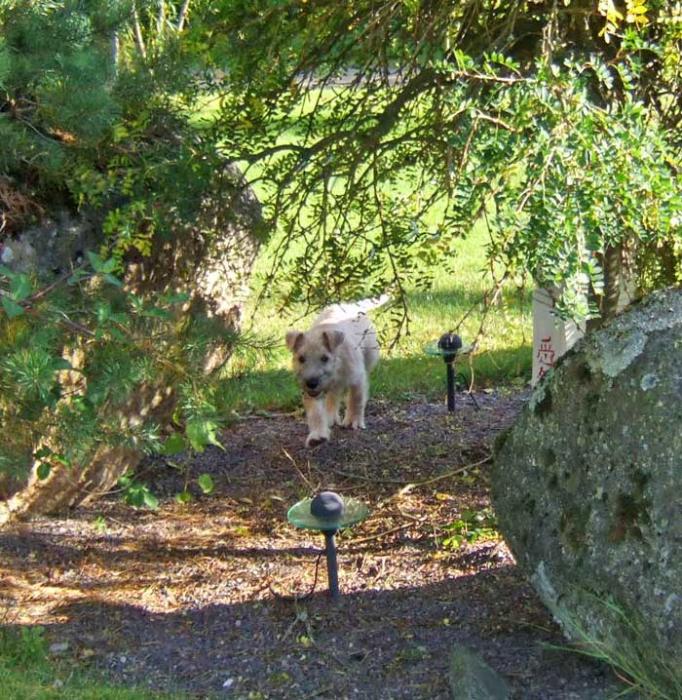 A djungle..???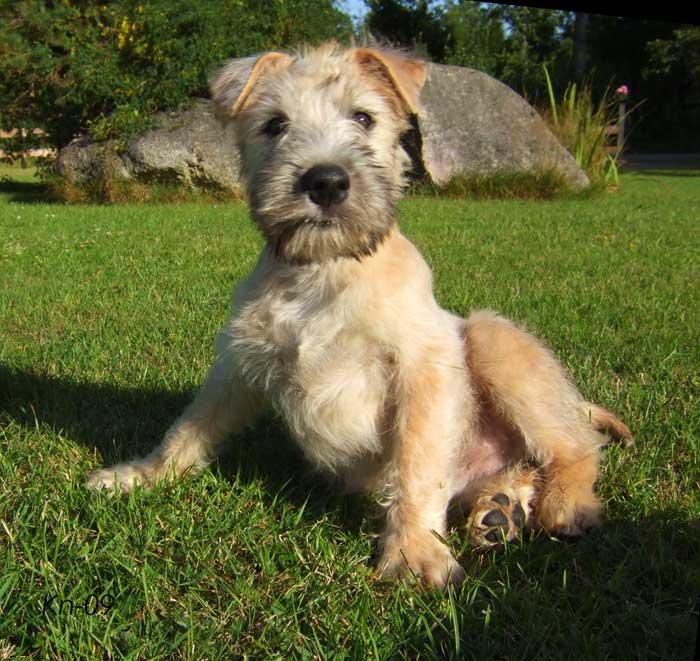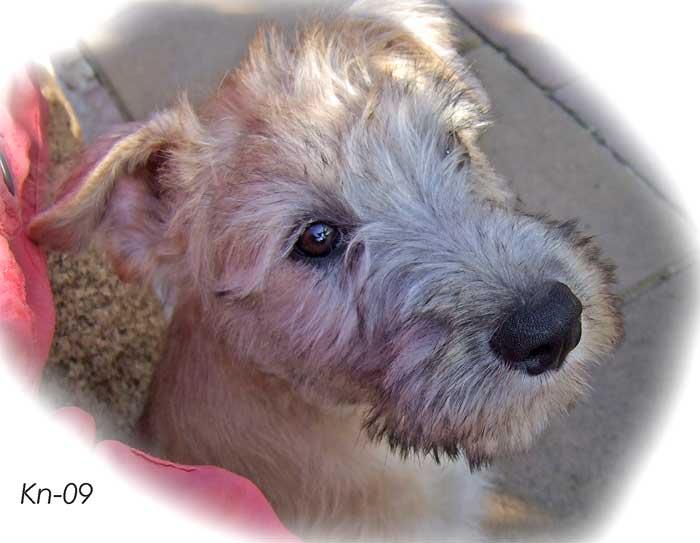 Do you want to know more about me and my sisters and brothers
I am the purple one
---
14/7-09
Hej på er!
I dag så gick Shylah och jag ett anlagsspår. Och det gick bra. Godkänt anlagsspår. Vårt första steg mot viltspårs championatet. Hon spårar bra och ringar vid vinklar och blod uppehåll. Lite osäker och vill hålla koll i skogen i fall det dyker upp något. Behöver träna mer i olika slags skogar innan vi anmäler oss till någon tävling. Vi klarade spåret på 23 minuter, om det hade varit tävling så hade hon fått 37 poäng.
Hälsningar
Annika
Villa Rosas Shylah has passed the Game-tracking test and is an approved game tracker.
---
Hi, Kickie!
I send to you a few photos from my country house. Shiko likes to be there.

Sveta.
Very nice pictures, enjoy!/Kickie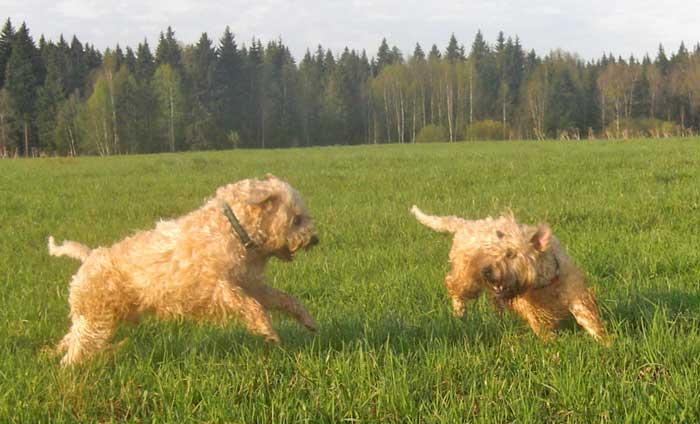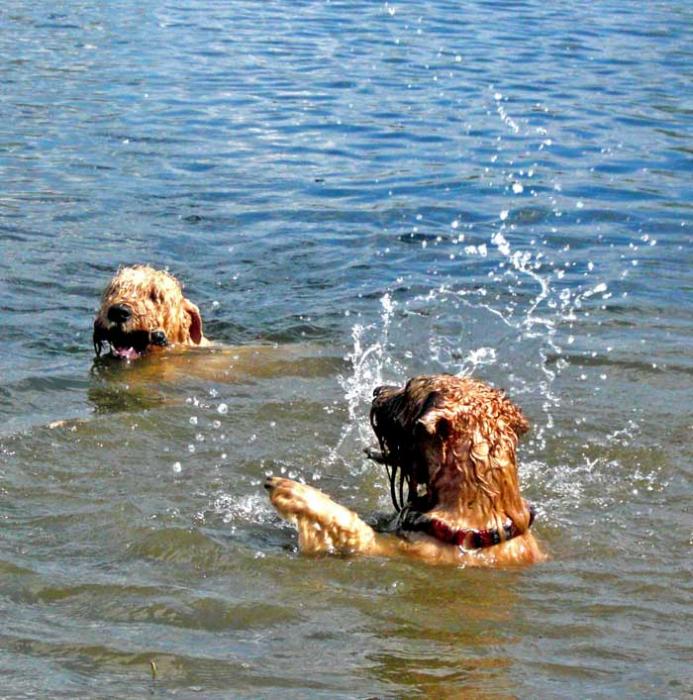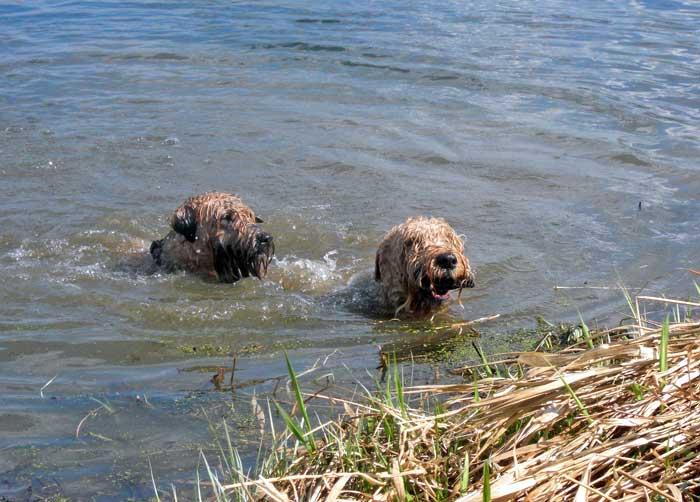 ---
HEJA SVERIGE!!!!!!
---
---
St. Patric's Day

Hi, Kickie!

Today in Moscow there was a parade in honour of Patrick's Day . Our wheaten terriers took part in parade, as breed of Ireland. Here there are some photos.

Sveta.
Copyright © 2005 Kennel Villa Rosa. Alla rättigheter reserverade