VILLA ROSA TRÄFFEN/DAYS 2009
fredag-söndag vecka 29 (17-19 juli)
friday-sunday week 29 (17-19 july)
För alla som har en Villa Rosa hund eller köpt hund av oss.
For all who has a Villa Rosa dog.
Som vanligt massor med roligt o lärorikt för både hundar, mattar o hussar!
Program kommer att mejlas till er som godkänt vårt nyhetsmail.
As usual a lot of funny and educational things for the dogs and the owners as well!
PM will be sent by email to you who have acknowledged our news mail.
''''''''''''''''''''''''''''''''''''''''''''''''''''''''''''''''''''''''''
Så var årets träff över. Usch vad fort det går. Vi var nästan 50 personer och många var ungdomar (16) samt ett 25 tal hundar. Nedan kommer lite bilder från årets träff. Tyvärr blev det inga bilder från Rally lydnaden för jag fick inte med mig kameran, men där är lite bilder på såväl Tins som Kristinas bloggar.
So have the Villa Rosa days of the year passed. Time goes too fast. We were almost 50 persons and many of them were teenagers (16) and appr. 25 dogs. Here comes some photos from some of the happenings.
There are more photos at Tins and Kristinas blogs (links above) but they are only in Swedish.
'''''''''''''''''''''''''''''''''''''''''''''''''''''''''''''''''''''''''''''''''''''''
Fredagen/Friday
De flesta anlände under fredagseftermiddagen med sina husvagnar, husbilar o tält. Det blev ett pusslande innan alla var på plats och framsidan av tomten såg ut som en campingplats.
Most people arrived during Friday afternoon with their caravans and tents. It was a puzzle to find place for everyone and our garden ended up looking like a camping site.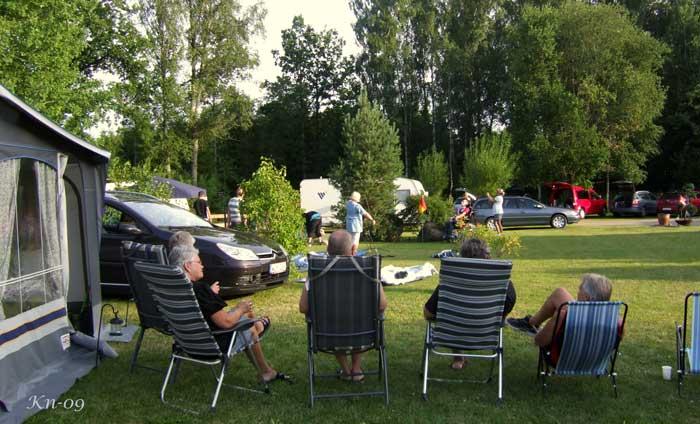 Husvagnar anländer på rad/caravans are arriving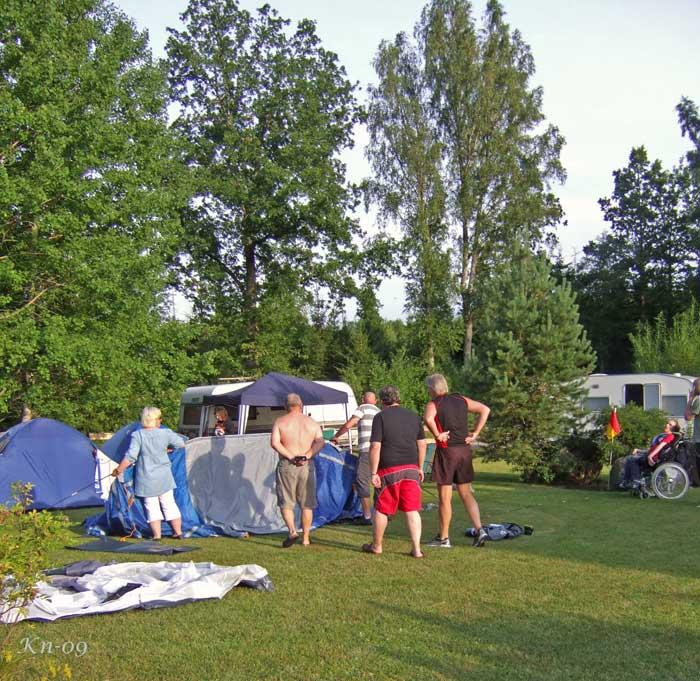 Hur man sätter upp ett tält för första gången/How to put up a tent for the first time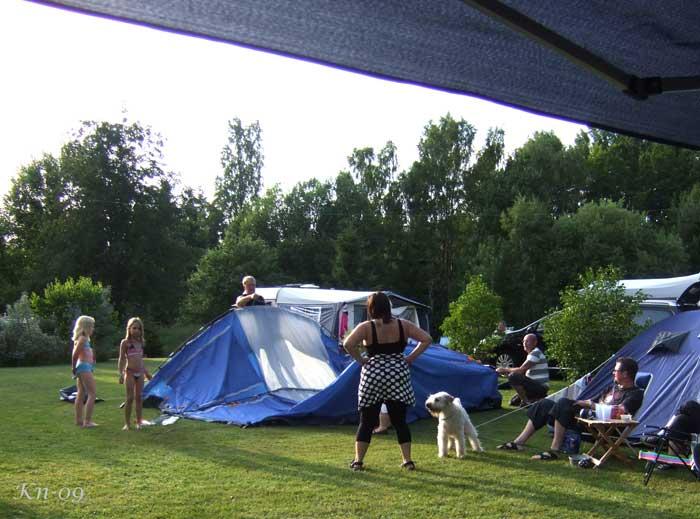 Alla kollar/all looks
Aven Faxe o Cola/even Faxe and Cola
Lördagen/Saturday
När hundarna blivit trötta efter rally lydnaden blev det lagtävlingar i poolen framåt eftermiddagen.
When the dogs were tired after a day out, the pool games started late afternoon.
De båda lagen är redo för första tävlingen/Both teams are ready for the first competition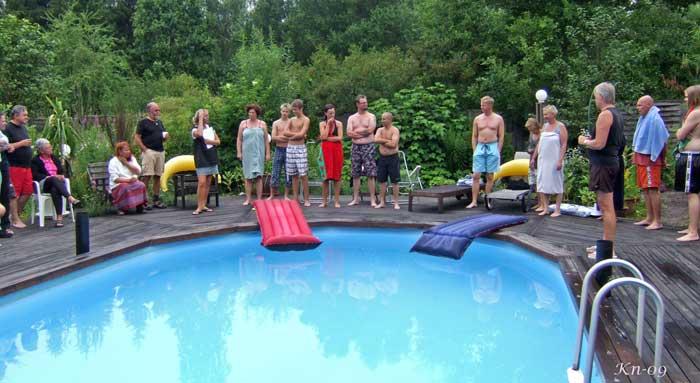 Publiken hejar på sina lag/The audience cheers their teams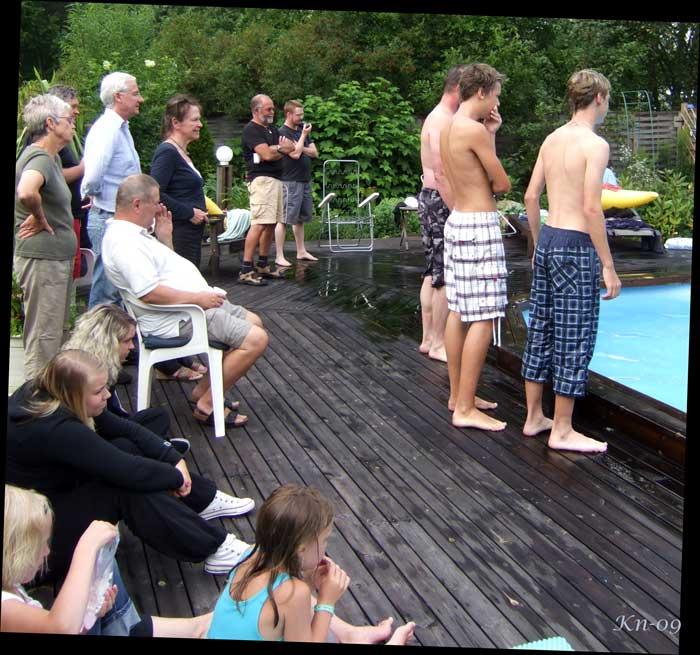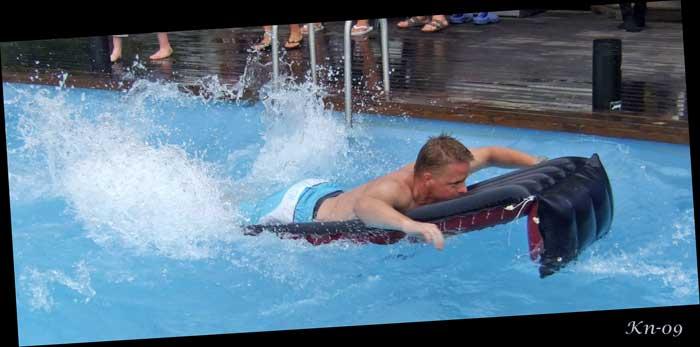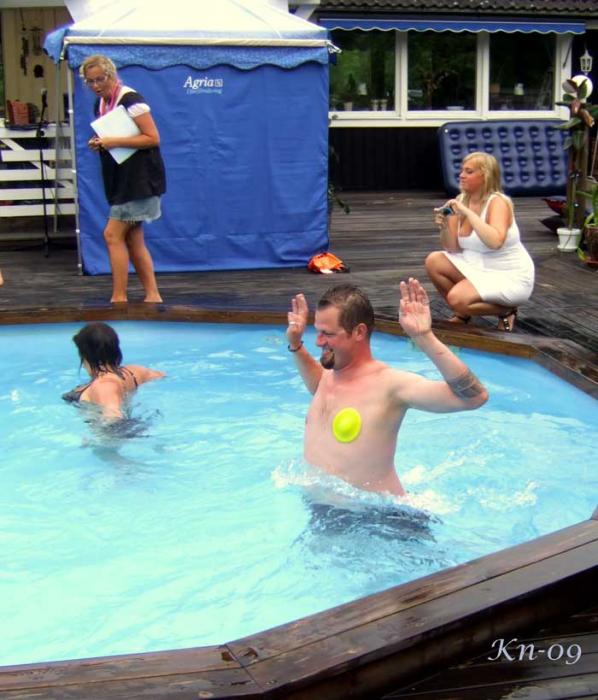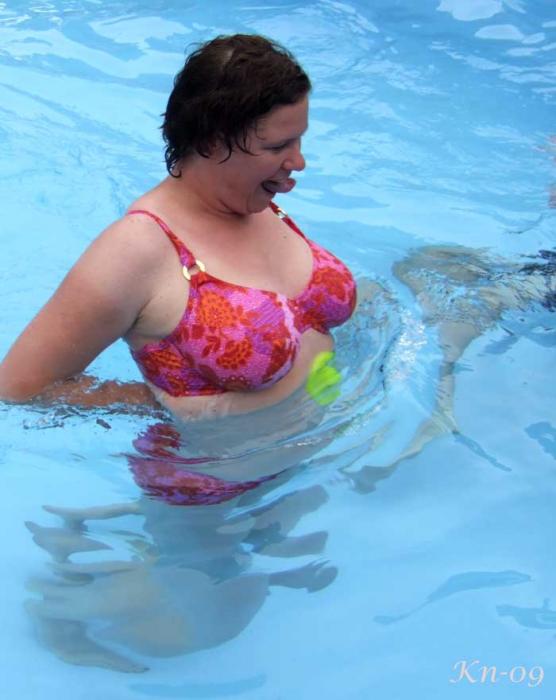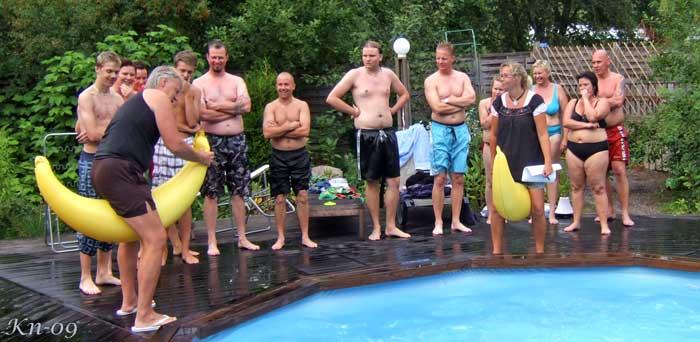 Våra lek- och underhållnings ledare Bengt-Göran och Kerstin förevisar bananracet,
som hölls för 8e gången!
Bengt-Göran and Kerstin shows how to do the banana race!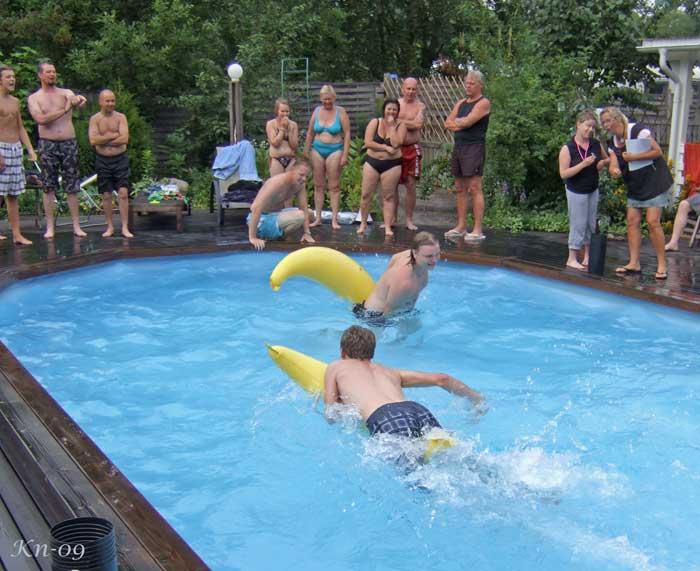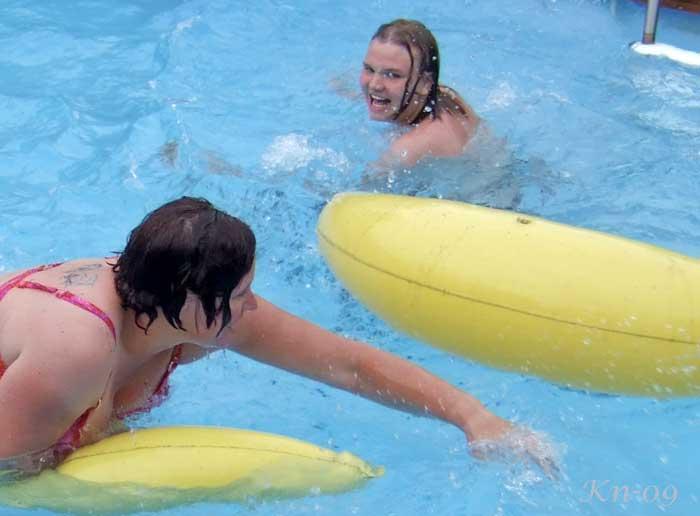 fighting face;-)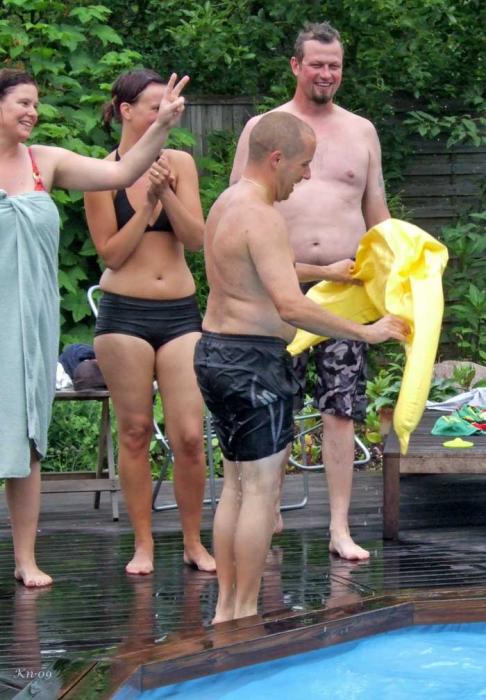 Tyvärr blev det nog sista gången också för en banan klade inte striden ;-)
På kvällen blev det musik dans och karioke och här har vi kvällens DJs.
In the evening there were music, dancing and karioke and here are the DJs!
Bryggdans på pooldäcket/Dancing at the pool deck.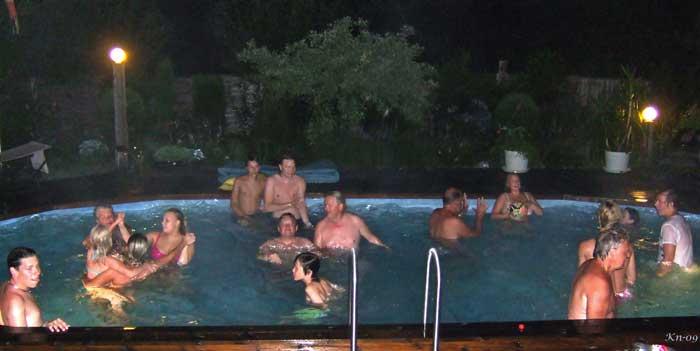 Kvällen avslutades med ett gemensamt bad/a late night swim
---
VILLA ROSA TRÄFFEN/DAYS 2008
fredag-Söndag vecka 29
Friday-Sunday week 29
Årets träff blev återigen en succe med ca 30 deltagare i alla åldrar och ett 20 tal hundar. Redan på torsdagskvällen började framsidan fyllas med husvagnar och husbilar. Det blev ett kärt hejande och återseende allteftersom dom rullade in och ett stuvande och packande för att alla skulle få plats. Tomten är ju inte hur stor som helst.
Det blev en spontan grillkväll med mycket förväntningar och återblickar på tidigare år. Det andra stora samtalsämnet var naturligtvis vädret. Skulle vi ha samma tur som tidigare år?
This years' Villa Rosas days became a success again. We were some 30 persons in all ages and about 20 dogs. already at Thursday evening our frontyard was filled with caravans and mobile homes. It was so nice to meet again and we had a hard work to get place for all caravans. We had a spontaeous barbeque in the nightand all were exited over the coming days and kept our fingers crossed for beeing lucky with the weather.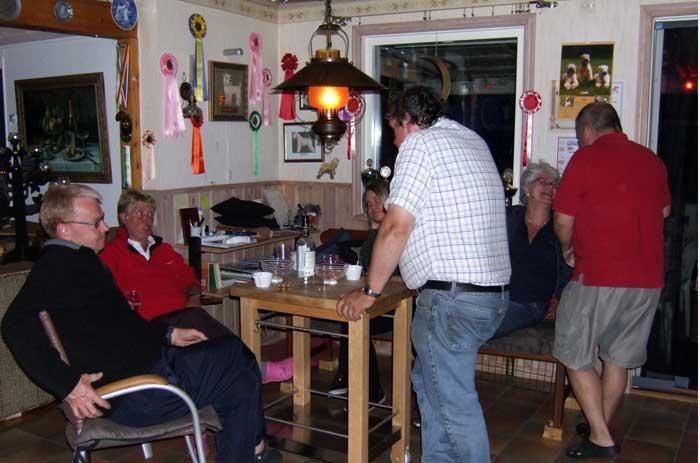 Thursday evening-nice to se you again
FRIDAY
Fredagsmorgonen rann upp med hällande ösregn på golfbanan Leråkra, där golftävlingarna hålls. Det blev regnställ på och paraplyer upp. De första hålen spelades i ösregn, men sedan skingrades molnen och studom blev det solsken och värme.
The golf competition, Friday, at Leråkra golf course started in pouring rain. It was to put on raincoats and umbrellas. After the first holes the rain stopped and the day ended in sun shine.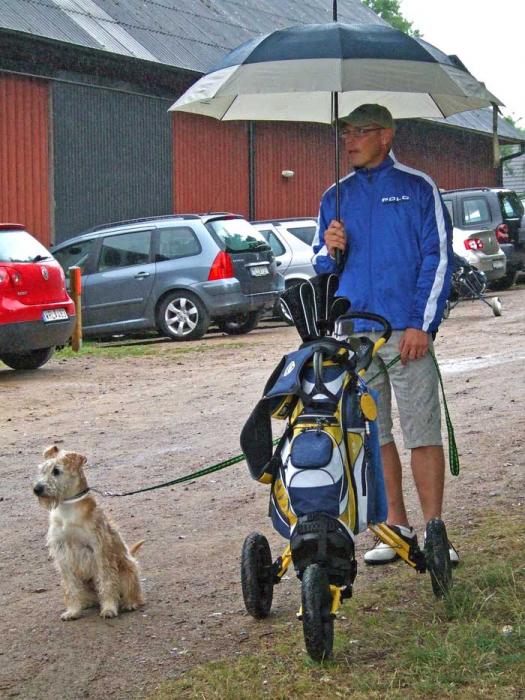 Jörgen & the golf dog Ture are ready to go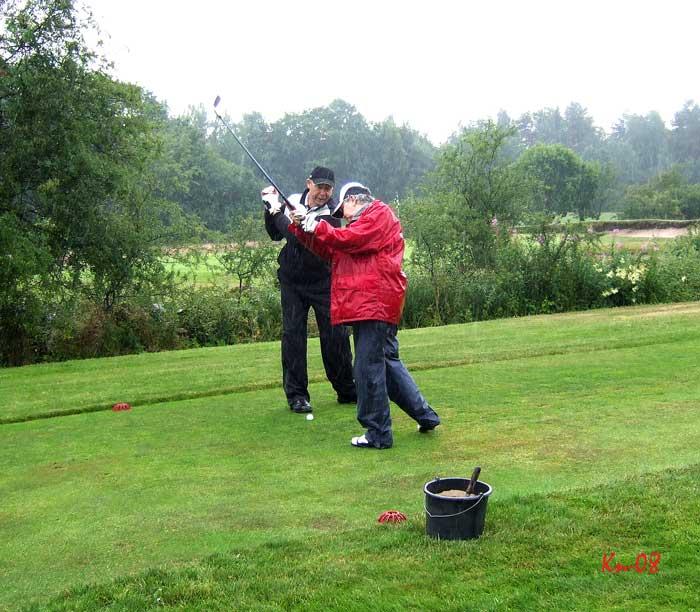 The rookie of the year, Christina, gets some "swing lessons" before start.
Team 1, Björn, Crille, Jimmy has a break after hole 9
Chris in the golfcar, Lola and the golfdog Ture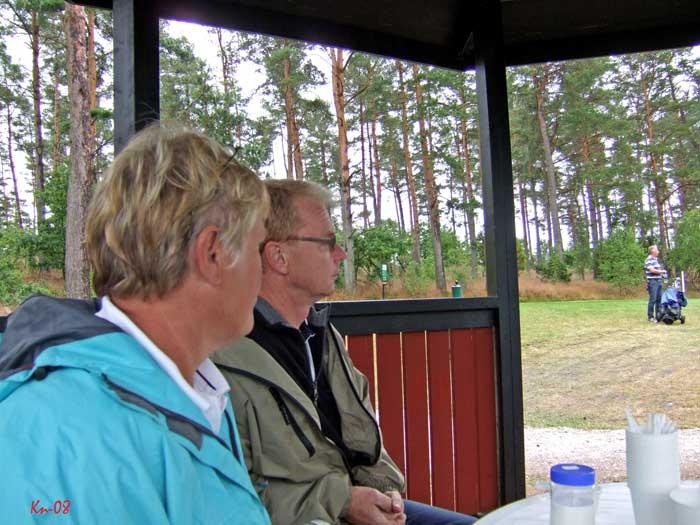 Therre were some spectators as well.
På fredagskvällen grillade vi igen så blev det naturligtvis mycket golfsnack. Ännu ett gäng husvagnar rullade in på tomten och nu var det nästan fullt.
At friday night we had barbquue again. Of course there were a lot of talking about the golf competition during the day. Some more people and caravans entered the garden and all were gathered.
SATURDAY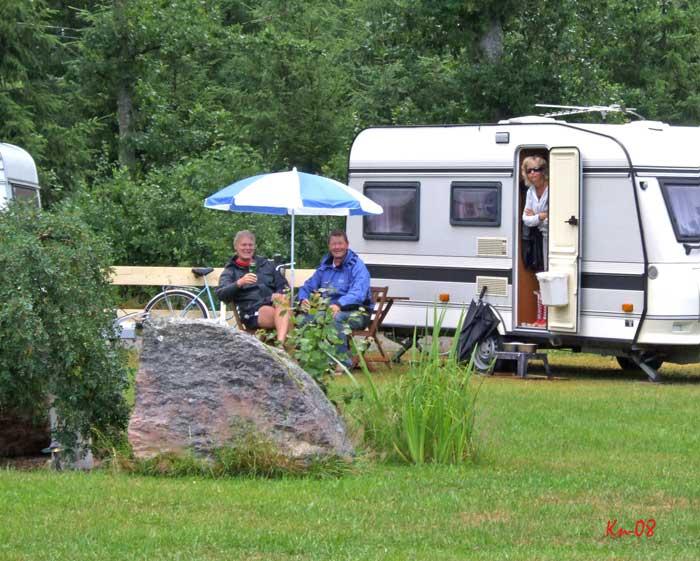 Good morning
Frukostkön- Breakfurst line
Efter frukost var det dags för instruktörerna Per och Eva från Simrishamns BK att förevis lite spår. Efter en muntlig genomgång förevisade Eva med sin hund hur ett spår skall se ut och därefter fick alla som ville prova på. det gick jätte-bra för alla, även de som provade för första gången.
After breakfurst Per and Eva, instrutors from Simrishamn, showed how to track people in the forest. At first they gave instructions how it should work and then Eva showed a track with her dog. Then could everyone have a try. All took their tracks even the first timers.
Per and Eva gives instructions in tracking.
On the way out in the forest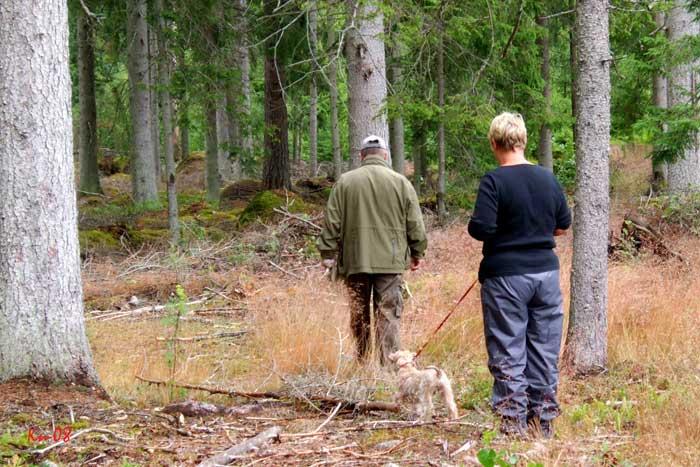 The youngest pup Rosie 10 weeks, tries to track Per.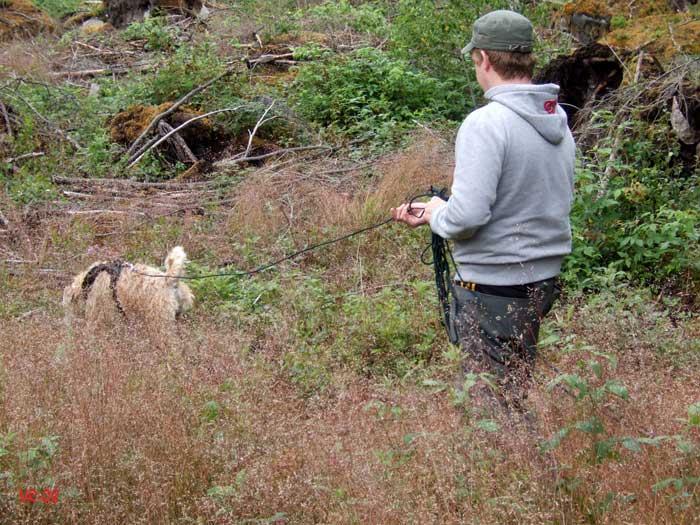 Faxe on his track
Efter lunch var det Annika Nilssons tur att ta vid. Annika är hundpsykolog och instruktör och jobbar heltid med hundar. Efter föreläsningen fick deltagarna gå ut och prova på lite olika saker som man kan göra med sin hund, något som uppskattades av alla.
After lunch the instructor and dog psychologist Annika Nilsson had a seminar. After the seminar they all went out to a kind of workshop where they could try a lot of different things to do togetherr with the dog.
Annika is speaking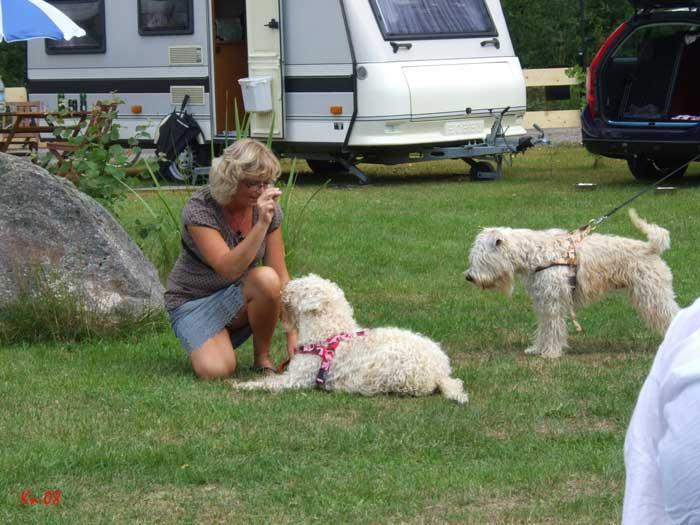 Lisa is trying to learn some things and Harr is watching
Ture is learning slalom
Pippirull and Ann-Marie
Konsulterna "Benga & Vera" höll i poollekarna till både de tävlande och publikens förtjusning.....
The konsultants "Benga & Vera" took care of the pool games, to everyones' delight .....
Benga gör entré
Vera
Boat race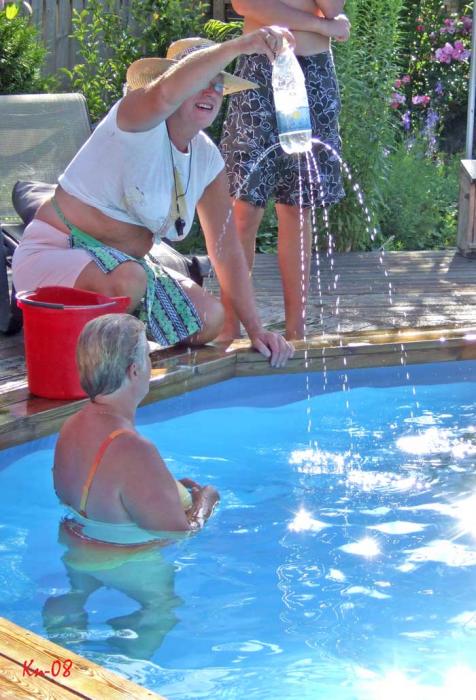 Den läcker ju som ett såll säger lagledaren i Team Benga
Team Vera
Efter pooltävlingarna var det dags för prisutdelning. Först till lagen i pooltävlingarna sedan hyllades golfarna och därefter var det prisutdelning i skatt jakten som pågått hela dagen.
After the pool games it was time to give prices to all. First to the pool games and then to the golfers and last to the tresure hunters.
The winning golf team
På kvällen blev det sedan grillparty med massor av överraskningar och uppträdanden. Bilderna får tala för sig själva.
In the evening we had barbque and lots of surprices and entertainments. The pictures may speak for themselves.
Stigfinnaren Björn the path finder
Carioke
Uppblåsbara Barbara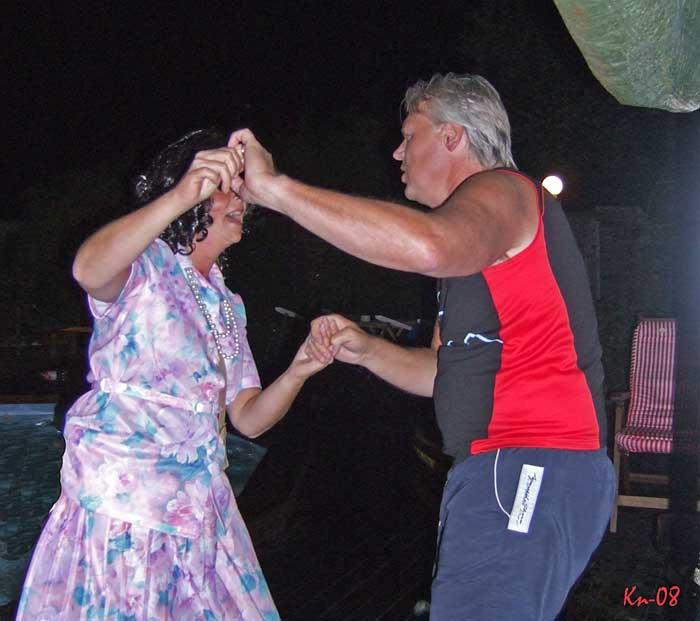 Ett varmt tack till alla för att ni gjorde träffen till en fullträff!!!
---
VILLA ROSATRÄFFEN/DAYS 2007
fredag-Söndag vecka 29
Friday-Sunday week 29
Vi hade en jätte-trevlig träff med 36 deltagare (från 4-85 år) och ett 20-tal hundar från 4,5 mån - 12,5 år).
Hela framsidan var nästan fylld med tält, husvagnar och husbilar.
Tyvärr tog batterierna slut i kameran på golftävlingarna på fredagen så det blev inga bilder därifrån iår.
Instruktörerna Eva och Per Andersson visade sök och uppletande ute i skogen och instruktören och hundpsykologen Annica Nilsson berättade och förevisade vad man kan göra med hunden i vardagen.
Efter lunch blev det tipspromenad och sedan lagtävlingar i poolen.
Vid sjutiden tändes grillarna och sedan höll festen på långt in på natten med trubaduren Jocke, dans, karioke och show.
We had some very nice Villa Rosa Days and we were 36 humans (from 4 yrs- 85 yrs) and app. 20 dogs (from 4,5 months - 12,5 yrs).
Almost all of the front garden was filled with tents, caravans and caravan cars.
Unfortunally the batteries in my camera didn't work at the golf competition so there are no pictures from that this year.
The instrutors Per and Eva Andersson showed how to practice two diffeent kinds of searching in the forest and the instrutor and dog psychlogist Annica Nilsson talked about and held a practise in things you can do together with your dogs every day.
After lunch there was a quiz walk and so the popular team-competition in the pool. About seven in the evening the barbeque started and we had a nice party to late in the night.
Skogssök/searching in the forest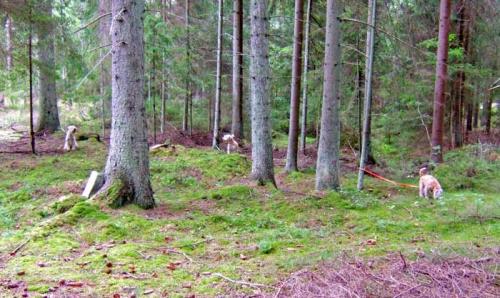 Annica visar vardagslydnad/Annica shows everyday obedience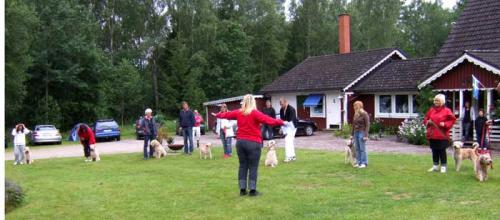 valpträning/puppy training
Årets yngsta hund 4.5 mån/The youngest dog 4,5 months
och den äldsta 12,5 år/ and the oldest 12.5 years
DAGS FÖR POOL LEKAR - EN SNABB TEMPERATUR KOLL ;-)
TIME FOR THE POOL GAMES - JUST CHECKING THE TEMPERATURE ;-)
BANAN RACE!!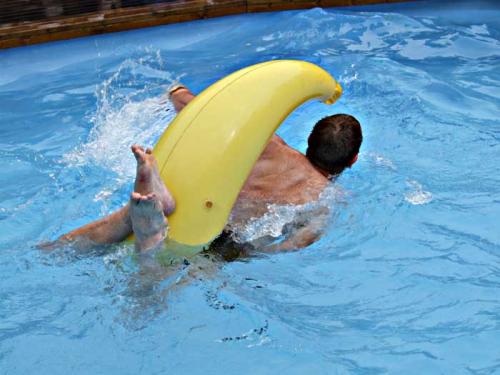 NYTT FÖR ÅREt VAR TRUBADUREN JOCKE
SOM UNDERHÖLL OSS MED SÅNG, DANS OCH KARIOKE.
Allsång








Vi hade några underbart trevliga och lärorika dagar
Tack alla som deltog!!!
We had some wonderful days and learned a lot
Thanks to all!!
Kickie & Chris
---
Villa Rosa Träffen 2006
den 21-23 Juli 2006
Årets träff blev den varmaste på länge, med 30 grader och solsken på dagarna och 17 grader på nätterna blev poolen extra populär. På programmet stod Golftävling på fredagen, rapport, skattjakt, lagtävlingar och grillkväll på lördagen samt utställningsträning och koppelhantering på söndagen. Nedan kommer lite bilder från helgen festligheter.
The Villa Rosa Days
21-23 July 2006
This was the warmest Villa Rosa Days in years. We had 30 degrees centigrees and sun in the days and 17 degrees in the nights. Our swimmingpool became very popular. On the schedule was Golf competition on Friday, training in the forest, treashure hunting, team-games and barbeque on Saturday. On Sunday we had handler training. Here are some pictures from the event.
The golf competition


The Rookie of the year
In The forest

Rapport-sändande

rapport-mottagande

rapport- från uppbindningsplatsen

Start lagtävling

full fart

banansim

!!!!!! splash!!!!!!
Nedan några bilder från grillkvällen som var mycket rolig
och där herrarna bjöd på sig ;-)
Down are some photos from the evening and we had a lot of fun ;-)




***********************************************
Copyright © 2005 Kennel Villa Rosa. Alla rättigheter reserverade